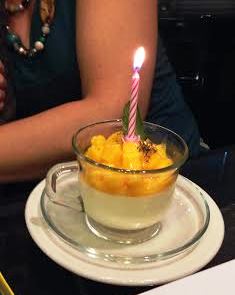 Va Bene has been a firm favourite with our family for some time, despite its rather quirky location above the Petron petrol station on EDSA outside the gates to Dasmarinas, so it was our first choice for a birthday dinner this week. Italian? Good guess! Since it first opened, the owners have spent some extra pesos on the décor, which used to whisper school canteen with its tiny tinny tables and plastic chairs, but it is now looking much cosier and attractive, with padded benches along the side wall and a selection of wooden tables and chairs. And strangely, the odd location works, as somewhere a bit different from the endless Makati malls and chain restaurants.
One wall is painted in my favourite burnt orange and the other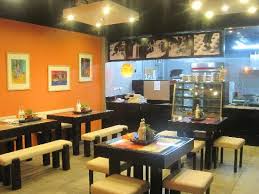 is a wall of bookshelves, filled with recipe books, olive oils and bags of pasta. There is a glass wall into the kitchen, filled with bags of flour, but with a small space to watch the preparation of the handmade pasta.
Service here has always been a bit hit-and-miss, but we are learning to either go with the flow, or speak up and ask for meals to be served at the same time. Admittedly it doesn't always work, but I guess it's worth a try! There was certainly no problem with providing an extra serve of the complementary and very moreish tomato and basil bruschetta, extra bread or BYO wine, as we discussed – at length – the options for dinner.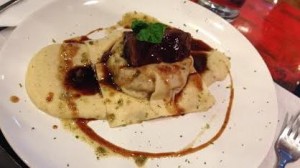 A long list of desirable appetizers was eventually whittled down to a generous salami and cheese platter with pickled vegetables and the irresistible pan roasted foie gras with portobello raviolo and onion marmalade, both designated for two, and one dish from the specials menu: a creatively different deconstructed salad of asparagus, proscuitto and ricotta cheese. They came out in no particular order, but kept us nibbling happily through a glass or two of a heavenly Clare Valley rosé.
We didn't make any decisions about the main course until the appetizers were cleared away, but then there was a general lean towards red meat: polpette (four fat pork meatballs in a bath of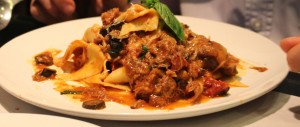 tomato and ricotta cheese sauce); a single, larger-than-life  shredded chicken and egg yolk raviolo with braised veal cheek (no.1 son is still smiling), and papardelle (those amazing broad ribbons of pasta) with braised lamb shank in a sauce of black olives, sundried tomatoes and pecorino cheese, all three incredibly rich, luscious dishes, and we have no plans to eat for at least another week.
And yet we still found room for dessert. The boys shared Va Bene's infamous profiteroles, filled with chocolate cream and served with icecream and chocolate sauce. (I am proud to say the chockie sauce wasn't-as-good-as-Mum's, but that didn't stop them scraping the pattern off the plate.)  I allowed myself the birthday indulgence of a tea cup of panacotta blanketed in diced mango, a lovely balance of smooth, soft, sweet creaminess, and an edgy splash of tart mango.
Only towards the end of the evening did the staff cotton on that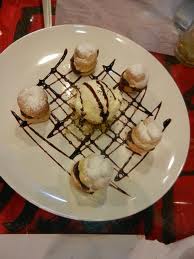 it was my birthday. (I expect the mountain of torn wrapping paper gave it away. My One & Only had chosen to go with volume, and had wrapped every gift individually, including my favourite mint slices and boxes of exotic tea!) As a gift from the staff I was offered a nostalgic shot of kahlua and vodka to round off the evening, and departed, like the Queen, past a line of waiters waving us farewell.
Va Bene is a family owned business, the baby of Chef Massimo Veronesi and his wife Carolyn. Chef Massimo has apparently worked at the Manila Peninsula in Mi Piace, as well as in Naples, Dubai and Florida. Unfortunately, for all the times we have eaten there, I have never clapped eyes on either Chef Massimo or his wife. Well, there is always next time… next week..? Tomorrow..?
* With thanks to all my boys for a wonderful birthday, and for their photographic skills. And to Google images for the snap of my burnt orange wall.