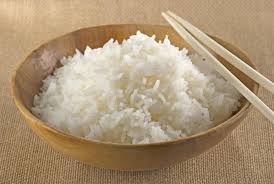 "The greatest gift they'll get this year is life"  ~Bob Geldof, Do they know it's Christmas?
As an Anglo-Australian, I grew up on a diet of meat and three veg. Potatoes were my staple carbohydrate, and rice was simply Calrose. After years living in Asia I grew, finally, better informed, but a recent trip to the International Rice Research Institute (IRRI) in the Philippines broadened my knowledge considerably.
Travelling in a multi-cultural convoy from the Asian Development Bank in Manila, we drove down through Calamba to Los Baños on the banks of Laguna, where we found the headquarters of the International Rice Research Institute. The compound contains the Riceworld museum and learning centre, 200 hectares of experimental farm, a training centre, laboratories and the International Rice Genebank, as well as accommodation for foreign staff.
Rice, as they say, is life and it is also the past, present and future of Asia. Rice is rich in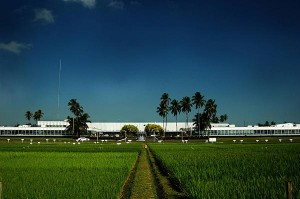 energy-giving carbohydrates and very low in fat. It contains no cholesterol, and it is salt free, sugar free and gluten free. And rice sustains two-thirds of the world's population, so it is hardly surprising that so much attention is focused on its production.
So, IRRI is a non-profit research organization, that works across Asia and Africa. Its work is funded by both governments and private sector, where the staff works tirelessly to develop genetic diversity, sustainability, higher yields and better production techniques. Why? Because rice farmers world-wide are facing the major issues of food security, global warming, poverty and malnutrition, as micro-nutrient deficiencies in rice – 'hidden hunger' – seriously affect the health of women and children. On a lesser, but still important scale, they are also battling with the effects of disease, pests, weeds, droughts and floods on their crops.  Part of IRRI's contribution involves donating free foundation seeds specific to the needs of farmers in different regions.
On December 9, 1959 a Memorandum of Understanding was signed in New York to establish IRRI as an organization 'to do basic research on the rice plant and applied research on all phases of rice production, management, distribution and utilization.'  Just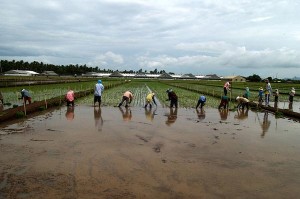 over two years later, on February 7, 1962 Philippine President and Mrs. Diosdado Macapagal and Mr. and Mrs. John D. Rockefeller III attended a dedication, which marked the formal foundation of the International Rice Research Institute. Three months later, the first crop of IRRI's Maximum Yield Experiment was seeded. Christened the Long-Term Continuous Cropping Experiment (LTCCE), it has been producing three crops a year for over fifty years to test for sustainability and the effect of long-term planting on soil quality. It has become the longest-running field trial on rice in the world.
Arriving in a spacious and attractive courtyard just opposite that historical rice paddy, twenty five ADB spouses were welcomed by two IRRI guides, who began our education with a short film about rice production, followed by a tour of the museum. Discussions on rice breeding and genetic modification led to some surprisingly vehement reactions, especially from guests whose countrymen are more heavily invested in the success of rice development than I. At the other end of the scale we examined simple tools and machinery still in use for rice farming in poorer regions, where farmers still need to be able to fix their equipment with a length of wire and a tin can.
Our next stop was the IRRI Genebank, which stores the most comprehensive rice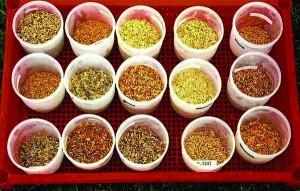 collection in the world – to date, over 123,000 varieties from all over the world, including wild, heirloom and genetically engineered 'golden' rice, a new type of rice that contains beta carotene, which is a source of vitamin A.
Many varieties are specially bred to withstand drought or flood waters (known as 'scuba' rice), viruses and insects. All of them are stored in specially designed refrigerated rooms that feel positively Arctic when you wander in wearing only a light summer dress.
The corridor to the Genebank is a who's who of Asian royalty and world politicians that have visited IRRI over the past fifty years. Outside the storage rooms there are long tables filled with workers integral to the running of the bank.  We watched, fascinated, as these female labourers systematically sorted through handfuls of rice at an astonishing speed, separating the wheat from the chaff so to speak – or rather, weeding out the diseased or damaged rice kernels before filing the remaining 'good eggs' in the bank.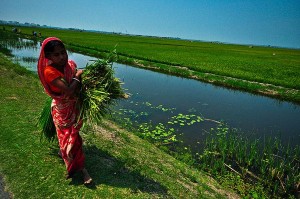 According to the IRRI website, 'women play an important role in the global rice sector as both paid and unpaid family labor' yet they are often hampered by social restrictions and gender stereotyping from becoming involved at higher levels, so IRRI works with them to empower them and strengthen their role in agricultural research and development.
At the end of the tour, our new friends very generously hosted a buffet lunch at the IRRI Guesthouse and we later posed amongst the rockery on the patio. And yes, there was rice for lunch.
*With thanks to Judy and Charmian and their team for their hospitality, and to the IRRI website and Google for their images.