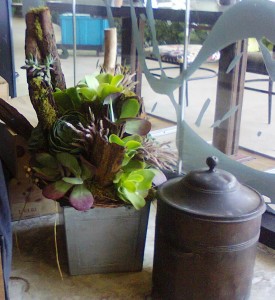 Margarita (Gaita) Forés has joined the organic craze, opening Grace Park just last month at One Rockwell, a tiny paddock-to-plate restaurant with an Italian flavour. It is named after her grandmother's home in Caloocan, apparently the inspiration for her farmhouse comfort-food cooking. She is quoted in the Philippine Daily Inquirer as saying: "Grace Park is a back-to-basics concept… it celebrates the organic produce of our farmers and artisan producers here and abroad. It honors the old ways of doing things, like slow-food cooking techniques."
As soon as you walk in the décor is both inviting and unusual: a blend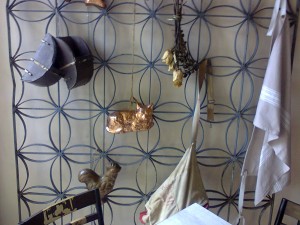 of recycled and rustic kitchen, quite different from anything I have seen in Manila before, the work of renowned Filipino architect Jorge Yulo. There is a glorious wrought iron balcony on the mezzanine, a broad, heavy staircase of recycled wood and industrial iron plating and a feature wall of recycled bricks.
Many of the decorations had obviously been salvaged from old buildings and second hand shops. A beautiful metal orb surrounds a small chandelier hanging above the stairs, and a rack on the wall is decorated in an assortment of old cooking utensils. Square stone tables squat solidly on polished concrete floors, the centerpieces of which are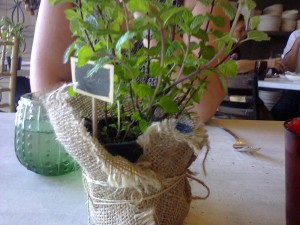 small tub of herbs wrapped in hessian – tarragon, mint or basil – that adds a charmingly scented kitchen garden ambience.  
Water is served in an eclectic collection of pretty, coloured, textured glasses. The service was warm and friendly and there was a prompt answer to every question we asked. We sat in the cosier space downstairs, where there are only a half dozen small tables, but the mezzanine is a great L-shaped space for larger groups.
The menu at Grace Park is printed on brown paper and pegged to a piece of cardboard, continuing the recycled theme, and is just the right size: a good selection of dishes without getting over-excited or over-whelming, based on seasonal ingredients, and including a cross-cultural mix of organic Scotch eggs, three cheese meatballs (provolone, ricotta and pecorino romano), Eton mess and cassava cake. We had come for a light lunch. Suffice to say we left feeling kilos heavier.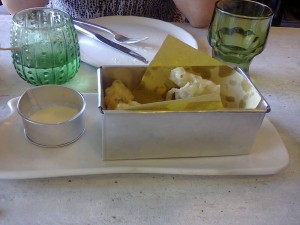 The food was fresh and temptingly presented, and as there were only two of us, we joined forces with the table beside us to compare notes. My friend and I had decided to go vegetarian for the day, with a box of tempura style mixed Japanese mushrooms followed by pasta. The mushrooms, served in a small cake tin, were healthy, if a bit bland, but were accompanied by a jazzy and moreish anchovy sauce that livened things up a bit.
Our pasta sauces were carbonara creamy, but surprisingly light. Mine had a delightful citrus tang with the contrasting crunch of pistachios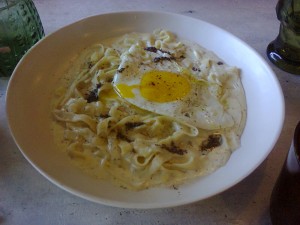 and a soft, crumbled goat's cheese, served with squash-infused pasta ribbons. We could smell the earthy truffle sauce as soon as it emerged from the kitchen, served on spinach fettuccine and topped with a perfectly fried egg, sunny side up. Our carnivorous neighbours meanwhile were indulging in Muscovado Beef Belly, pork chops and a whole fish served, still sizzling, on an oval, cast iron frying pan at the table – serving sizes that were definitely designed for sharing.
We finished off – 'Dessert? Really?' – sharing a Key lime pie that did not need the mountain of whipped cream it came with at all, but stood alone extremely well. A fine ending to a thoroughly satisfying lunch.
We will undoubtedly return to sample more from this great new menu in its novel setting, with the added bonus of finding it is only around the corner.