Imelda Marcos, wife of Filipino President Marcos, became internationally renowned in 1986, not for her charismatic personality, her movie star looks or her contribution to Filipino culture, but for her butterfly sleeves and her infamous collection of shoes. When Imelda fled the Malacañan Palace with her husband after the People Power Revolution, she left behind innumerable mink coats, gowns, handbags and over a thousand pairs of shoes. Due to looting, it has proved impossible to fix on the exact number, but nonetheless it has become the stuff of legend and satire, a metaphor for compulsive extravagance and greed. In the Philippines it has even become an adverb: imeldific. Recently Imelda's shoe fetish reappeared in world news when it was discovered that a leaking roof in a storage room at the National Museum had destroyed a neglected collection of Marcos memorabilia, including many more pairs of shoes.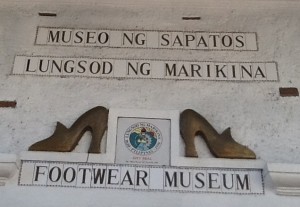 Fortunately, some still remain for posterity. Marikina, the tap root of the Filipino shoe-making industry, is also the home of the Shoe Museum, which houses a large number of shoes from that vast collection that hit the international news in 1986, donated by the Iron Butterfly herself. In Marikina Mrs. Marcos is something of a heroine: the patroness of a struggling local industry; the first lady who helped to put Filipino shoemakers on the world map. So it seems fitting that she chose the city to display a selection of her footwear.
Exhibited in airtight cabinets away from direct sunlight, the  colour-coded shoes, many made by Marikanyos, also including famous brands like Gucci,  Christian Dior, Chanel and Prada, all of which survived floods last August, when river waters reputedly reached a height of 17 metres, flooding houses and roads across the city.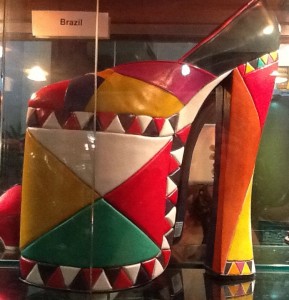 Imelda's shoes share the limelight with those of Filipino Presidents and celebrities, a miniature shoe collection, a display of national footwear from all over the world and a number of giant papier mâché boots created by local school children, although none are as large as the two hanging over the river as you enter the city. A tree made from wooden shoe lasts – the molds used to shape a shoe – stands in the centre of the tiny museum, and there is even an over-sized pair of Australian elastic-sided boots! And of course Imelda's collection is mind-boggling, especially when you stop to consider this is only a fraction of the number she owned – although she claims many were given to her by shoemakers and designers keen to have her model their products.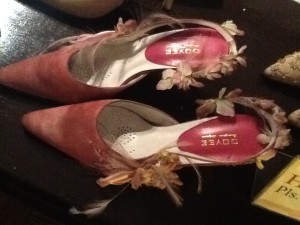 For Marikenyos, the story began, not with Imelda, but with wealthy landowner Don Laureano Guevara, nicknamed Kapitan Moy, "Father of the Shoe Industry". His interest in shoe making led him to set up a cobbler's shop in Marikina in the late 19th century. His hobby rapidly spread through the town and by 1935, Marikina had been transformed from a sleepy town of rice farmers and fisherman into a thriving city of quality shoemakers, the industry supporting almost 2,500 inhabitants and their families. By the 1980s Marikina was known as the shoe capital of the Philippines, producing over 70% of the Philippines footwear.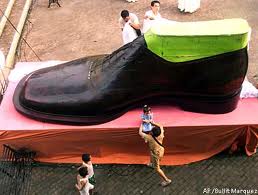 In 2010 the Guinness Book World of Records recognized Marikina as the home of the world's largest pair of shoes. At 5.29 metres long, 2.37 metres wide and 1.83 meters high they could hold 30 pairs of normal-sized feet. Shoe-makers used enough material to make 250 regular pairs of shoes.
While globalization and modern mass production have overtaken the Marikina shoe industry, local shoemakers are still immensely proud of the quality of their shoes. In an attempt to revive a flagging industry, two annual trade fairs have been introduced, supported wholeheartedly by local government. In 2002 the Sapatos Shoe Festival was launched: a two month celebration of shoes that runs from mid-September until mid-November; a trade caravan that travels throughout Metro Manila, exhibiting Marikina's most famous craft.
So perhaps Mrs. Marcos is not the only Filipina with a shoe fetish?