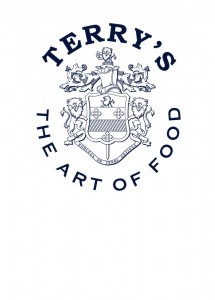 Terry's has become something of an institution in Manila for authentic, Spanish, tapas-style eating. This long-time favourite is owned and run by Juan Carlos de Terry,  who now has three restaurants under the one banner: one in Salcedo; another in The Podium on ADB Avenue, Ortigas, and a third is tucked away in a corner of Pasong Tamo Extension between Dasmarinas and the Southern Luzon Expressway.
At all three restaurants you first have to run the gauntlet of the delicatessen and wine shop, and resist the temptation of stocking up on gourmet treats and good wine… if you can!
We recently visited the restaurant on Pasong Tamo with friends. It is a lovely, wide, welcoming space, and the service is prompt and friendly, yet discreet – always worth several gold stars in my book! The piano was commandeered by our fourteen year old son the last time we came to Terry's, but this time the regular pianist had been reinstated and played through a medley of Christmas carols and old favourite show songs. I found my foot tapping all evening, and I only hope my soft humming was as muted as I thought – although I probably needn't have worried, as it can get loud enough to drown out quieter voices in this rather echoing space, once the tables fill up.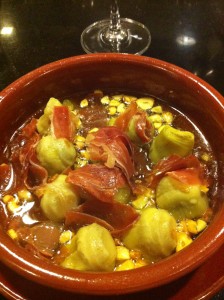 The menu, as always, was irresistible. Dipping and tasting and nibbling and licking fingers and forks for the last drops of flavour… this kind of grazing is my favourite way to eat, each new dish eyed with ravenous enthusiasm, as each of us tries to wait politely till someone else launches in. We ordered as much as possible and tucked in.
Sadly the duck foie gras terrine with slices of black truffle was not available that night, but we did not, by any stretch of the imagination, go hungry. Artichoke hearts with shavings of jamon serrano (dry-cured Spanish ham) came to the table reeking of fried garlic and swimming in olive oil perfect for dipping the toasted baguette.
Flamenquin andaluz, or rolls of breaded sirloin beef, jamon and raclette, is crisply fried and drippily delicious, as the cheese melted between our teeth.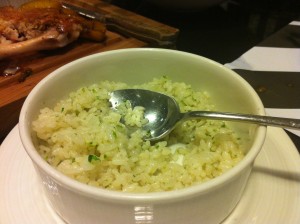 Gazpacho, that celebrated chilled tomato soup from Andalusia, reputedly introduced by the Moors, was a perfect balance of sweet tomato and biting garlic, and the hot oyster and artichoke soup with wild mushrooms was delicately flavoured, creamily smooth and comfortingly warming.
Suspiros di santona turned out to be a glorified insalata italiano: slices of large, fresh tomatoes dressed with esabeche vinagrette, tuna belly flakes, and anchovy mayonnaise that was a favourite with the men at the table. As I am not a big fan of anchovies, I left them to it, digging into into the Capricho espagnol instead. This is Terry's signature dish: a glorious risotto, oozing with prawns, scallops, manchego cheese, jambon iberico (cured ham), arroz bomba (a popular rice from northern Spain), sweet, spicy piquillo peppers (chillies), pimento and saffron, reminiscent of a Filipino paella.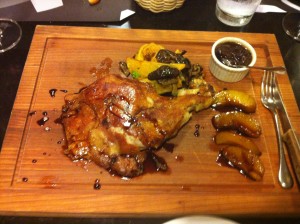 Another favourite is the suckling pig, or super-cochinillo confit served with risotto, caramelized onions and peach.  Succulent, rich, and o-so-filling, this delectable pork dish melts  sweetly on the tongue, as we fought politely over the scraps. I have a sneaking suspicion I have forgotten a couple of dishes, but 'hey-ho!' I don't want us to look too greedy! Anyway, as always, our eyes proved larger than our stomachs, but we struggled on, washing it all down enthusiastically with good red wine. The wine is a favourite with our host: the 2009 Ferraton Père & Fils St. Joseph La Source, an elegant syrrah from the northern Rhone Valley.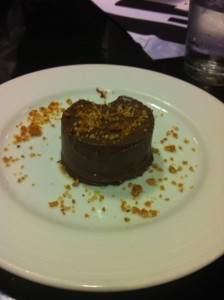 Despite over-filled bellies, we somehow found the space needed to squeeze in a couple of desserts, sharing a rich, honey-sweet chocolate marquise, and a luscious crème brulée, crackling with toffee and thickly creamy beneath.  Our host insisted we paired this with a totally unnecessary but gorgeous – and surprisingly light – 'sticky' or dessert wine. Please don't ask me what it was. By that point my head was almost resting on the table and my vision was blurred. Suffice to say, we finished the bottle!