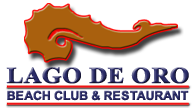 Satiate your thirst for a thrilling getaway… we bring you nonstop excitement from morning to night… every corner of Lago de Oro Beach Club spells fun and adventure. You'll never run out of breathtaking moments to savor.
It was quite a promise, this advertisement for Lago de Oro! Sadly,  I have become a little skeptical after two years in the Philippines. Managing expectations is a concept that seems to escape the Filipinos. Too often, the advertising is crammed with unfulfilled promises of five star luxury that in reality becomes five star prices for two star mediocrity. Has anyone seen 'The Best Marigold Hotel'? Exactly! I have found a number of 'Best Marigolds' in the Philippines.
So I was feeling nervous about booking a few days in Luzon. My daughter was flying up to the Philippines for the Easter and I wanted to take  the kids out of Manila, but preferably not via the airport. I wanted a peaceful haven for me, but I also needed entertainment for teenagers. And I needed to be able to do it on an understated budget that didn't mean camping in a dump for the weekend.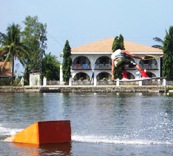 Someone suggested Lago de Oro and to my surprise my fourteen year old son ratified the decision. He had been there once a school trip to go wake boarding. 'Yes please! It's great fun there!' So I booked it. On-line. For March. And then we turned up. In April. Next time I'll call, or put on my glasses. Luckily they had a room for us even at the very last minute (I am standing at reception wailing 'No! We've driven all this way! I'm sure I booked for Easter!")
Lago de Oro is actually only a two hour drive from Manila, if you don't unexpectedly take the scenic route via several small, grid-locked coastal towns by mistake, when it's more like four hours, with a few ounces of stress thrown in for good measure.
The advertising blurb is perhaps a little poetic, but we love this secluded little hideaway. Once a prawn fishing farm, this simple but very comfortable family resort is hidden away in rural Batangas. It's a lovely drive round the ridge road above Lake Taal and down through lush green farmland to the edge of the much contested South China Sea.
Here is the first cable wake-boarding lake in Luzon, with a smaller pool for beginners to practice in. Teenagers can enjoy the challenge of trying to reach the end of the lake and turning the corner without coming off the board and nose-diving into a school of nervous fish. Smaller kids will love the pool and the paddocks full of goats and sheep, caribou and frogs. My favourite thing is the walking track around the lake, and o! the joy of strolling through unpolluted air, free from the threat of manic jeepney drivers, Polly Pocket dogs and ankle-turning footpaths.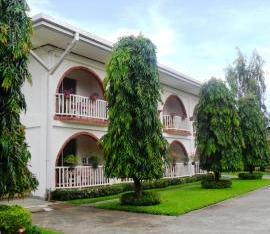 The rooms are simple, clean and spacious: there is comfortably space for a family of four with a view either of the sea or the lake. There was also the perfect spot on the edge of the volleyball lawn to drag my deck chair, and enjoy a mug of tea as the sun rose, while the children from the barangay next door play in the water amongst the bancas.
There is a family pool with spa and sauna, and a perfectly nice restaurant with a large shaded patio where Hannah and I set up the Scrabble board for hours on end, while the boys flexed their muscles (and drowned their injured dignity) on the lake.For beginners, it can sometimes be a long wait between turns, but once you graduate to the big lake, things move faster.
The restaurant is a bit pricey – there is a strong sense of being a captive market – but the menu has a wide variety of local and international dishes that should keep everyone happy over a long weekend. Breakfast is an extended period of shovelling down huge pancakes, fresh fruit and vast mugs of coffee. There is a real wood pizza oven and excellent Pad Thai. There's a lot of local fish on the menu, and you should share (note: share) the seafood platter at least once. The oysters are picked daily from their own lake. The lamb, too, is their own, and comes in a rack, a roast a curry, or barbecued Mongolian-style. If you are new to Manila and want to experiment with local cuisine, it's also a good place to try out some popular Filipino dishes.  And the staff here are really sweet and friendly – they even remembered us when we went back, which is always heart-warming.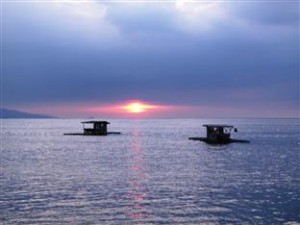 A foot beyond the perimeter fence is the sea. I will never cease to be amazed at the lagoon-like appearance of these tropical oceans. Five hundred metres of knee-deep sandbank means there is barely the glimmer of a wave. Children and fishermen wade out to the drop-off through crystal clear seas. Three or four rafts with thatched roofs floated just off-shore. These are balsas: like nipa huts on a bamboo raft, complete with bamboo picnic tables and seats. We asked if we were allowed to go out on one with our Gin and Tonics, and were sent off with a smile, G&Ts in hand. We should have taken the bottle! Our captain advanced to the steps pulling the raft behind him. Once we were seated, he set off towards the horizon, eventually up to his chest in water, to anchor us at the edge of the drop-off just in time for the sunset…
We have yet to test out all the facilities at Lago de Oro – we were too busy unwinding by the pool to avail ourselves of the options to water ski, snorkel, or fish. For the energetically inclined, however, there are all these options and more: a basketball hoop and volleyball net, boat rentals, a nearby golf course, billiards, darts and table tennis – the last three particularly useful if you find yourself in the midst of a tropical storm in July, and you forgot the Scrabble!
Recently we took on one such storm, and watched it battering at the coast all afternoon and on through the night. Despite the broad sandbank, waves pounded against the sea wall and leapt the fence. I watched the palm trees touch their toes and feared we would find ourselves in Vietnam for breakfast, but my husband rolled over and growled something about the resort withstanding several wet seasons already, he supposed it could endure one more. By merienda it was a great story to post on Facebook: 'Surviving our First Typhoon.' Well, they had promised us breath-taking moments and non-stop excitement from morning to night… and they delivered! Unfortunately, the storm also delivered a lot of debris onto the beach, so it didn't look as attractive as it had earlier in the year.
Beyond the resort – if you have the energy – are some local tourist sights I have researched but am yet to visit, such as the Submarine Garden, a reef of living coral at Lobo, so don't forget your snorkel and flippers. Mount Maculot is an anthill of tunnels built by the Japanese, their last bastion in the region, and literally off the beaten track, ten kilometres from San Juan, are the Mainit Hot Springs. The region also abounds in waterfalls: Lingga Falls have a thirty foot drop and a swimming pool beneath; Ilijan Falls resemble the flight of steps at the front of the Peninsula Hotel on Makati Avenue, carved into the mountainside by the water flowing from a spring at the top, and there are apparently some smaller Bulalacoa Falls near Lipa City.
But I will have to tell you about them next time, as I have an appointment with a Gin and Tonic on a banca half way to China…
* Apologies for the photos, which I have borrowed from the website, but I forgot to take my camera!